🠈🠉🠊
Which way will this stock move? Will this index go up or down? Where is the NIFTY and SENSEX headed? Upstox Trend is an indicator that'll help you with these questions.
A feature that studies all the possible chart patterns for you and gives an analysis on the expected direction of a stock or index - up, down or remain neutral.
Thanks to this, you no longer have to analyse trends on your own, study charts or learn technical analysis skills. Just use Upstox Trends, and trade like a pro!
Features of Upstox Trends
Directional Summary
Upstox Trends provides directional summary for 3 time frames Short term (2-6 weeks), mid term (6 weeks - 9 months) and the long term (9 months - 2 years). These are derived from technical chart patterns such as bottom triangle, diamond bottom; Indicators and Oscillators such as double moving average crossover, Bollinger band, MACD, RSI indicator, candlestick and bar patterns such as inverted hammer, engulfing line, shooting star etc.
Support & Resistance Level


In addition to the trend, we also provide important price levels i.e. support and resistance levels over the three timeframes. Support and Resistance Levels help investors identify significant price levels that have a demonstrated history of holding ground. Prices tend to pivot off of these levels, or these levels seem to take buyers or sellers in or out of the market. For this reason, they can be used to help identify entry or exit prices. To illustrate: Should a price approach a resistance level, this may be a good time to take profits in case the price turns around and so it can be a useful target level. Should the price cross a resistance level, this is a sign of strength and can be a useful entry point.

To view Upstox Trends, head over to the scrip details page of a stock or index and scroll to the 'Trends' section. Catch a glimpse here →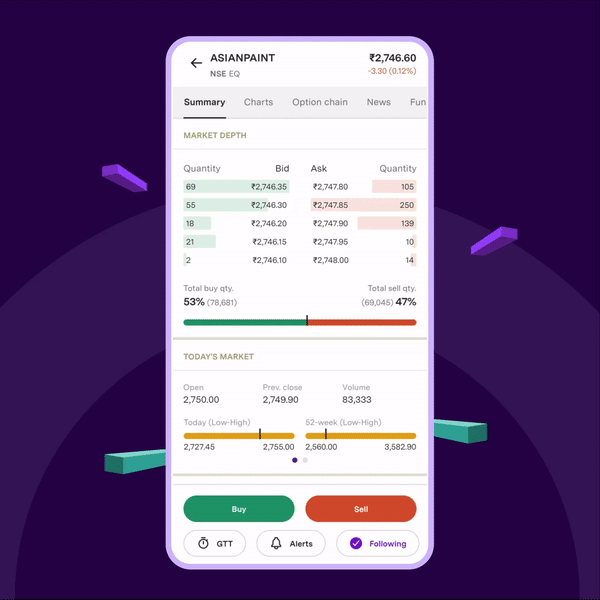 Not seeing these features? Update your app to the latest version today.
*Only available in Pro mode on the Upstox android app.
Never miss a trading opportunity with Margin Trading Facility
Enjoy 2X leverage on over 475+ stocks
Open Demat Account Today