Summary
Options trading offers an opportunity to make a profit whether the markets move up, down or sideways. And 'Ready-made Option Strategies' by Upstox is the safer way to trade in options. Simply make a prediction on the market movement and get pre-curated option strategies based on your prediction. Let's understand how to use Ready-made Option Strategies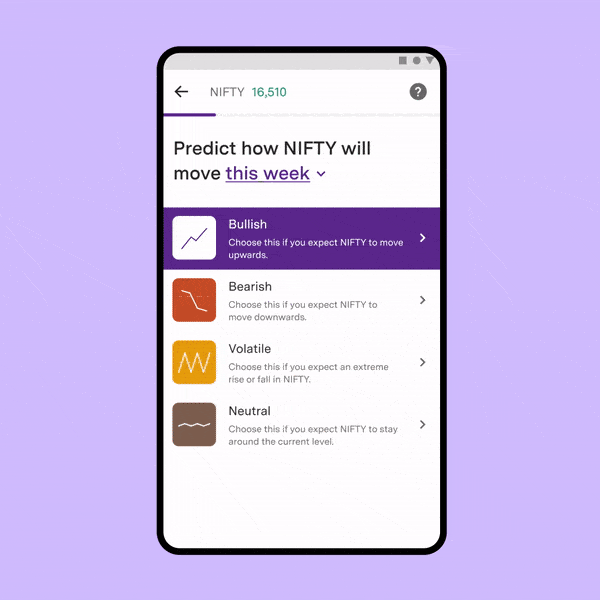 Overview
Options are complex instruments and option strategies can be even more complicated. However, the biggest advantage of options is that they can be used in any market condition. 
With Ready-made Option Strategies, Upstox simplifies the options trading journey. Its unique features make it an extremely useful tool, for both new options and pro traders. Some of its key features are:
Pre-curated strategies

Insights on probability of profit/loss

Insights on fund requirements

Interactive pay-off graph

Multi-leg order placement & tracking

Group trades - to enter and exit

Getting started
With Ready-made Option Strategies, you can simply pick from a list of pre-curated strategies and there are multiple ways to access this on our app →  
NIFTY/BANK NIFTY

Options page
NIFTY/BANK NIFTY Option Chain
This first version of Ready-made Option Strategies is only on NIFTY and BANK NIFTY indices. In the coming months, we will also include pre-curated options strategies on the 200+ F&O stocks.

Pick option strategy
Whether you are making your first options trade or your hundredth, building an options strategy on your own can be a complicated and intimidating process.
Ready-made Option Strategies solve this problem in a unique way. 
Simply predict the market direction (

bullish

, bearish, volatile or neutral)

Select the expiry you want to trade (weekly or monthly)

Get a list of Ready-made Option Strategies

Predict market direction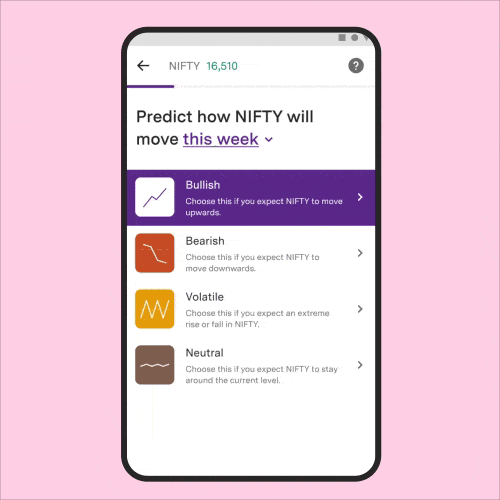 Get 3 to 5 strategies along with insights on -

1. Probability of profit
2. Maximum profit and loss
3. Funds needed.

Based on your risk appetite, you can also switch between High/low-risk options.

High/low-risk strategies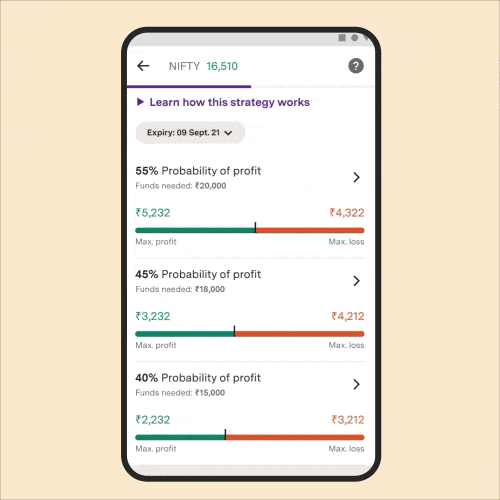 Usually, traders tend to use a limited number of option strategies. However, different market conditions require a trader to adapt and adopt different strategies.
Ready-made Option Strategies offer seven different strategies based on market direction and risk profile.
If you want to learn more about a particular strategy, click on 'Learn how this strategy works' on the new Upstox App
Ready-made Option Strategies also has a unique interactive P&L graph. Using this, you can view the probable profit/loss at different values of NIFTY/BANK NIFTY and also view the break-even point to plan a timely exit from the strategy.

P&L graph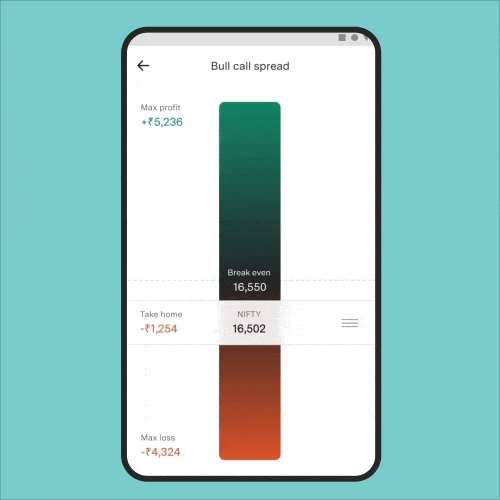 Once you have selected the strategy you wish to use, the order entry is intuitive.
Use the -/+ buttons to change the number of lots you wish to trade in and the total quantity of shares, funds needed and maximum profit and loss amounts will be updated. 
Order entry with 1 lot
In terms of execution, legs of a strategy order are placed one by one at the best bid-ask prices. On execution, all legs of a strategy order are grouped as one. You can track them from under the Positions >> Strategy tab. Such grouped orders make it easy to track a strategy's combined P&L until expiry.
Executed order
To exit a strategy, check 'Positions' and tap on 'Exit strategy'. Your positions will start closing at the best available bid and ask prices.
Keep in mind
In addition to the above, there are certain aspects that traders must note while using the 'Pick option strategy' feature: 
The

quantity

can be a minimum of 1 lot and a maximum of 10 lots in a single order.

Strike prices shown in the strategies are pre-fixed. To choose your own strike price, you can use the 'Build option strategy' feature (more on it below). 

The

strategy orders

are placed at market price and not as

limit orders

. If due to illiquidity an order gets stuck, you can use the

retry button

to push the unexecuted order again to the Exchange with a single click.

In majority of the cases, the order will be executed immediately (sent as a market order). However, orders that are not executed due to illiquidity can only be cancelled but cannot be modified.

Modification

of quantity (number of lots) is also not allowed once the order is placed.

If the order for

entering

into a strategy stays fully or partially unexecuted till 3:20 P.M., our systems will identify such orders and cancel all unexecuted orders first and then close the position of the executed orders within that strategy.

In case of

exit orders

, the system will cancel all unexecuted orders at 3:20 P.M.

A strategy can only be exited manually i.e.

on-demand

. You cannot set a pre-defined exit condition such as a stop-loss, irrespective of the profit or loss in the strategy.
---
Build option strategy
The process of building an options strategy on your own is fairly intuitive. Select contracts from the options chain and place a single-leg trade or multiple-leg options strategy.
The net margin required to execute the orders is shown along with the available funds. 

Build a strategy
The 'Build option strategy' feature gives you the flexibility to choose your own strike prices (not available under 'Pick option strategy'). Further, a strategy can have up to four legs in any combination.
The trades executed under 'Build option strategy' are visible under the Positions >> Regular tab.
---
Ready-made Option Strategies are free and available on the new Upstox app. Click here to download now.
Never miss a trading opportunity with Margin Trading Facility
Enjoy 2X leverage on over 475+ stocks
Open Demat Account Today