Bharat Gears Stock Analysis - Overview
From the author: The automobile sector in India is going through an extremely slow phase over the last 12-18 months. Growth in passenger car sales is at a record low and uncertainty in infrastructure projects has severely affected commercial vehicle sales. Despite this, over the last 12 months, Bharat Gears Limited has been less affected by this slowdown compared to its peer group. It is also worth noting that during this time Bharat Gears infused a lot of capital in acquiring superior technologies which put even more strain on its profitability. Over the next few quarters, however, this should help improve efficiencies and at the same time, enable the company in offering a superior product range. Visit here for an overview of the Indian Automobile Industry.
Disclaimer: The stock analysis presented below should not be taken as a buy/sell recommendation. The circumstances of the company and the economic environment may have changed since the date of this stock analysis.
What's driving the stock
Strong foothold in gear space
Bharat Gears Limited ("BGL" or the "Company") is engaged in the manufacture of automotive gears for more than 30 years. The Company supplies gears to major Original Equipment Manufacturers (OEMs) in India and overseas for different segments of the automobile industry - heavy, medium & light trucks, utility vehicles, tractors & off-highway vehicles. Because of its strong foothold in the automotive gears and components space in the domestic market, the Company has shown good growth in all business segments despite one of the worst slowdowns in the automobile sector in recent times. For FY 2013, the company's total income stood at Rs. 392.62 Cr. and the net profit stood at Rs. 4.97 Cr. For the nine months period ending December 2013, total income stood at Rs. 314.77 Cr. and net profit at Rs. 2.11 Cr.
The Company's client base includes leading OEMs like Tata Motors, New Holland Tractors, John Deere Equipment, VST Tractors, John Deere Coffeyville Works, Ashok Leyland, Man Force, TAFE, Escorts, and JCB. BGL also supplies to tier I companies like Dana Corporation, Spicer India, and Carraro.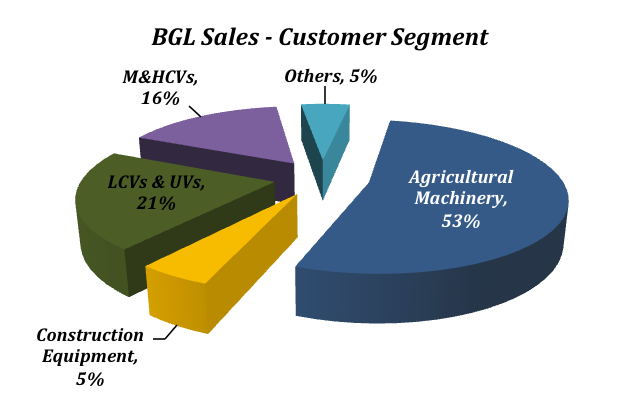 Capacity Expansion
Bharat Gears has two plants — one in Mumbra (Maharashtra) and the other in Faridabad (Haryana) — with a total installed capacity of 5.2 million gears per annum. The Company has undertaken debt to fund its capital expenditure of Rs. 580 million in 2013-14 towards increasing its manufacturing capacity and modernization of its existing facility. The Company expects capacity to rise 10 % in FY14 driven by both Brownfield and Greenfield expansions at Pune. On May 13, 2013, the Company set up its third facility at Satara in Maharashtra, commercial production on which will commence from FY 2014. Newly added capacity will enhance the company's ability to service all clients situated in western and southern India.
The constant focus on technology enhancement
The Company is consistently focusing on technology upgradation and enhancement with an objective to enhance the overall performance. Despite the slowdown witnessed in the automobile sector in the last 12-18 months, Bharat Gears has continued with its modernization programme. The Company has entered into technology collaborations and licensing agreements with world leaders for respective product groups which facilitate access to advanced technologies and will help the company in manufacturing premium quality products. For example, recently BGL ordered for the highly sophisticated Klingelnberg CNC gear cutting machine (C 50). And entered into a technical tie-up with Holcroft Michigan, for manufacturing furnaces and collaboration with ZF Friedrichshafen for manufacturing gearboxes. The tie-ups considerably enhanced the competitive position of the company in the domestic markets and also helped in improving reputation with clients.
What's Dragging the Stock
The slowdown in the automobile sector
Bharat Gears is engaged in manufacturing of automotive gears for Medium/Heavy Commercial vehicles and tractor segment and caters to both domestic and export markets as an OEM and aftermarket supplier of gears. The future prospects of Bharat Gears are linked to the performance of the commercial vehicles and tractor industry. Any slowdown in the sector adversely affects the company's financial performance. In FY 2013, the automobile sector has seen a major drop in volume. Consequently, the Company has witnessed a significant drop in sales which reflected in its revenues.
Risk related to high customer concentration
The Company accrues nearly 71 % of its total revenues from top 5 customers, of which around 30 % of its revenue is from two clients, Carraro and John Deere. A majority of Bharat Gears' revenue is dependent on these two clients. If either of the above clients confronts a challenging situation, it could have a materially adverse impact on BGL's revenues, profitability and share price.
Volatile input (raw material) prices
Raw material price volatility has been a concern for all manufacturing companies in India. One of the key inputs required by the Company is alloy steel. Off late, the steel prices have been on an upward trend. In addition, there has been an increasing trend in the prices of Liquefied Petroleum Gas and Light Diesel Oil (LPG/LDO). Increase in crude oil price globally is the biggest concern for Indian auto industry. Rising petroleum prices will make the company even more vulnerable to international competitive pressures. The Company's Faridabad plant is entirely dependent on self-generated power. Any further increase in diesel cost will affect the overall profitability of the Company.
The Company's Faridabad plant is entirely dependent on self-generated power. Any further increase in diesel cost will affect the overall profitability of the Company.
Rajat Sharma is the CEO at Sana Securities, an independent equity research and financial advisory firm in India. Views expressed here are of the author and Upstox has not verified any facts stated above.
Never miss a trading opportunity with Margin Trading Facility
Enjoy 2X leverage on over 475+ stocks
Open Demat Account Today